Academic hoods can be identified in three ways: the size; the velvet color; and the lining color(s).
The size of the hood and width of the velvet represents the type of degree. Bachelor hoods are the smallest, master degrees are medium size, and doctoral hoods are the largest.
The velvet on the hood represents the degree. With the notable exception of most Ph.D. hoods, doctoral hoods use the velvet color that corresponds to their degree. So a Doctor of English would have white velvet on his/her hood. A Doctor of Business Administration would use drab velvet (shown below); an MD would have hunter green velvet for medicine; a J.D. would have purple velvet for Law.

In addition, each school uses its own colors for the lining. We maintain a data base of thousands of schools both in the United States and abroad. When ordering a graduation hood, please let us know the name and location of the school where you obtained your degree. The reason we ask for location is that some universities have several campuses and often the hood lining colors varies by branch or campus.
Since you can only wear one hood at a time, it is generally advisable to wear the hood of your highest degree. So if a person has a Master's in Science and then gets a Doctorate in Engineering, the person would wear a Doctor of Engineering hood (with orange velvet), not a Masters hood.
On occasion however, a Master's degree hood may be "higher" than a Doctor's hood. For example although a medical doctor would normally wear a large doctoral style MD hood with hunter green velvet for Medicine, an MD who then receives a post-doctoral Master's degree in Public Health, would wear his doctoral gown but with a Masters of Public Health hood (salmon velvet), rather than his MD hood. This is because academically speaking, his Masters degree is higher than his doctoral degree.
When a person has a doctorate and a Ph.D., the Ph.D. hood is normally the one worn.
Finally, many of our customers ordering deluxe or custom gowns, especially the gowns with piping, choose to add matching piping on their hoods in order to dress them up. Unless otherwise specified, (or unless you are getting a custom gown with other-than-gold piping) we use gold piping for hood orders requesting piping.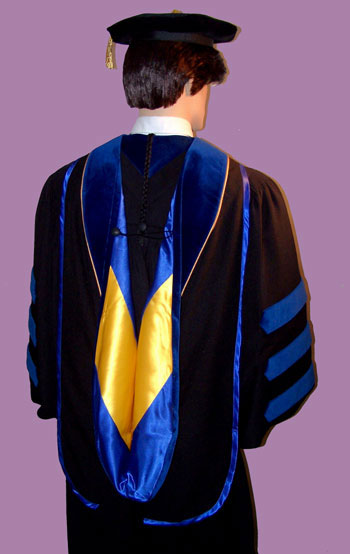 Deluxe Ph.D. blue velvet hood (matches velvet of gown). School lining colors are Royal and Bright Gold.
Gold piping is also added around velvet (rear view).
---
How to wear your doctoral hood -- Your hood should be worn draped around your neck with the largest portion of the hood hanging down your back. The velvet border, which indicates your specific field of study, should be showing on the outside. (in the case of Ph.D. holders, the velvet would be Ph.D blue regardless of the speciality).
The velvet should fold under on the lower back to allow the colors of your college or university to show.
To keep your hood from being too tight against your neck, there is a cord on the front to help secure it to a shirt button or pin to a blouse or dress, underneath the zipper of your doctoral gown.
Ph.D. and doctoral hoods should also have a cord and button in the back of the hood (as shown above) to prevent the hood from slipping off your shoulders.